Student Network for Advocacy & Prevention (SNAP)
What is SNAP?
StopHazing's Student Network for Advocacy and Prevention (SNAP) is a student-led group dedicated to advocating for comprehensive hazing prevention. The group, comprised of students at all levels, especially college and high school students, works together to #StopHazing in communities, schools, and on campuses throughout the U.S. and beyond. Student-leaders involved are driven and passionate about violence prevention, and overall student well-being and thriving.
Objectives
Educate about the harm of hazing
Build skills for hazing prevention
Advocate for hazing prevention policy
Make space for student-leaders to join together to create positive change
*SNAP members must be enrolled as a student part or full time (high-school, undergraduate, or graduate) and able to commit to serving one academic year. Exceptions can be made based upon enrollment date.
What will we do?
Expectations & Time Commitment
We know that as a busy student-leader your time is limited and valuable. As a Student Representative, we hope for you to contribute a few hours (or more!) per month as you are able. Throughout the year, SNAP tasks, projects, and campaigns may shift, however, hazing prevention policy advocacy will be the focus of SNAP.
You will be expected to…
Outreach

Draft a testimonial or statement for why hazing prevention or hazing prevention policy is important to you and share it with StopHazing and beyond.
Share your story with U.S. Representatives, Senators, and institution leaders.

Meetings

Attend a monthly 30-45min check-in and planning meeting with your peer Student Representatives and StopHazing staff.
Attend other StopHazing events as needed.

Virtual Presence

Representatives will regularly engage with social media platforms throughout the duration of the program. This includes sharing posts, attending webinars, and engaging in the Representative chat channel.
Complete one Social Media Takeover per semester.
Contribute to other social media items such as blog posts, infographics, and posts as needed.

Stay up-to-date

Read and respond as necessary to emails from StopHazing. These may include anything from policy or communications updates to social media sharing to just plain fun and networking opportunities.
Other engagement, development, and leadership opportunities are available based upon members' interest!
What's next?
Student-Representative Benefits
Beyond knowing that your time spent working to #StopHazing directly impacts the communities you reside in and helps keep students healthy, safe, and alive, you also will gain:
Opportunity to add the Student Network for Advocacy and Prevention and affiliation with StopHazing, the pathbreaking hazing prevention research group in the nation, to your resume and LinkedIn.
Build capacity to lead and advocate for change within your campus and school communities.
Access the knowledge, skills, and expertise of StopHazing's team of internationally recognized hazing researchers and prevention and evaluation specialists who share information, resources, and feedback.
Engage in professional leadership development opportunities.
Gain experience in a grassroots campaign to enact change at the federal level, including in policy advocacy related to hazing prevention, public health, violence prevention, campus safety, student well-being, and higher education.
Engage with a broad professional network of scholars, campus professionals, policymakers, peer student-leaders, and beyond.
How do I join?
Complete this form! Tell us a little bit about you and why you want to join StopHazing's Student Network for Advocacy and Prevention! We'll be in touch with you about the next steps once the form is submitted.
---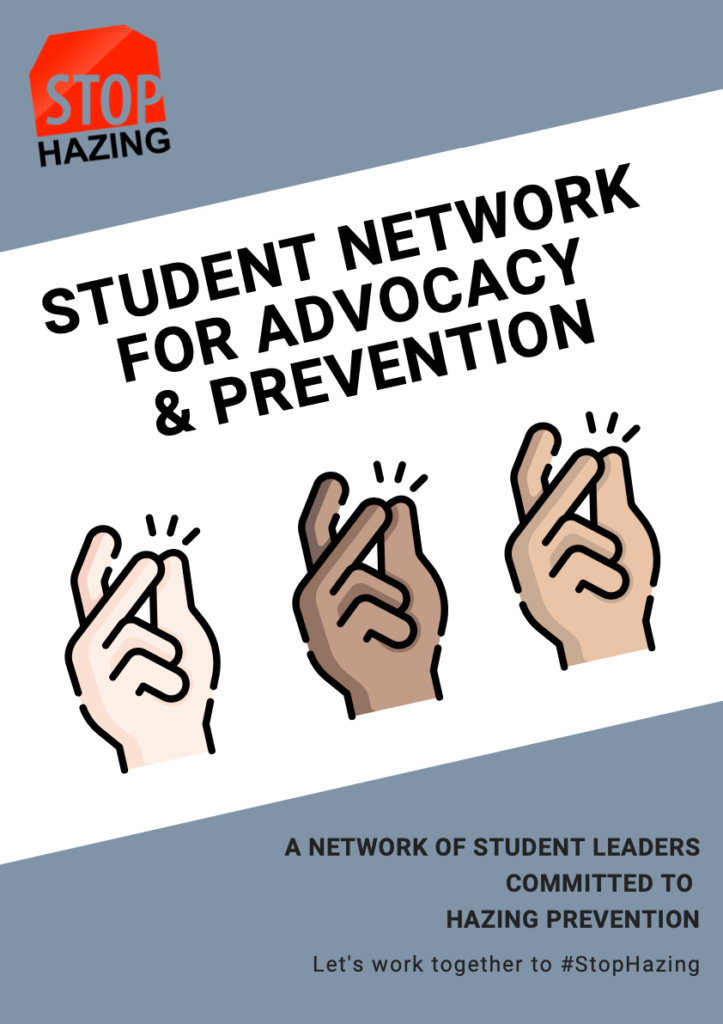 Download this PDF for more information. Share it with your networks and students!